First off, Happy New Year! Best wishes to all, I hope we all stick to our resolutions at least until February. 😉
I have been eagerly anticipating the amazing doll artist Tina Kewy's first sculpting book coming out hopefully this month. So much so that I have been diligently checking her blog every day since December!! Why? Take a look at this sneak peek!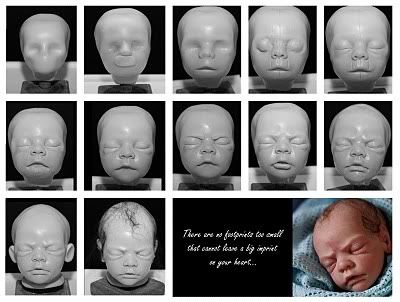 The book walks you through the steps of sculpting a life size 30 week gestation preemie! She is also working on a full term baby sculpting book, but the date for that is still in the wind.
Ack!! I cannot wait!! If you are as eager for her new book as I am, come join me in stalking her blog here: www.sculptorsdiaries.blogspot.com!!